Filtersource.com, Inc. is proud to support the Ugandan Water Project. We recently sponsored a few rainwater collection systems at a Water & Grow event in Syracuse. As a result, 540 men, women, and children at Kababbi Primary School and Mende Health Centre III now have access to clean, safe drinking water. That means that 540 people are now experiencing the transformational effects of clean water on their health, education, and economic opportunities all because they are now released from the burden of walking many miles for contaminated water.
To see more details on these rainwater collection systems, check out the installation reports for Kababbi Primary School and Mende Health Centre IIIwhere you'll find photos, GPS coordinates, survey data, and more.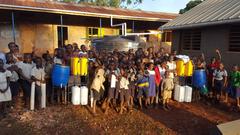 For more information on the Ugandan Water Project and to see how you can get involved, check out their website!